The Global Peace Alliance of Surrey is holding their annual Arts and Literary contest and are inviting people to submit their entries to info@peacealways.org.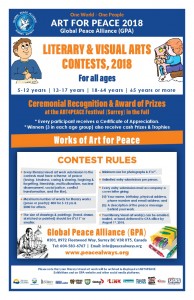 This year's program is called 'Art for Peace' (ART4PEACE) Program. Essentially the program has three main activities: a Literary and Visual Arts Contest for all ages, display of art submissions at public venues, and an 'Art for Peace' (ART4PEACE) Festival. The Art4Peace program uses art to pursue the GPA mission "to empower people and their educational, cultural and other grassroots networks to build and sustain a culture of peace for generations to come". The program has had great successes in GPA Fiscal Years 2015-16 and 2016-17 with increasing numbers of people in all age groups participating and using various creative arts to express their views of peace. Among them were children as young as 5 years and seniors in their eighties.
Here are the various age categories for submissions. Cash prizes are given to all Finalists.
5 –12 Years25
12 –17 Years22
18 –64 Years21
65 Years and above12
For more info email info@peacealways.org or telephone Tel: 604-583-6767. You can also visit their website at www.peacealways.org